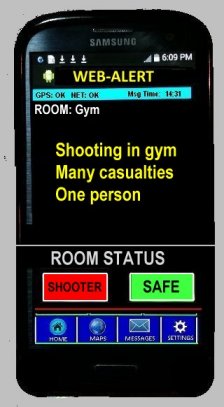 WEB-ALERT
ADVANCED WIRELESS SECURITY
Universities.....Schools..........Public Venues
---
WEB-LINK
connects administrative desk computers to Security Staff using Kenwood / Hytera / Icom Portable radios and to remote Police Departments and 911 servers when an emergency occurs using GPS and two-way text messaging.
WEB-ALERT
is the companion Application installed in staff equipped Android Smartphones, allowing the staff member to send a silent alert and status reports to the Administrative desk with auto-forwarding to Police when an attack occurs.
GUNSHOT-ALERT
is an Android Application currently being developed by Datalink for installation in remote Smartphones which are permanently mounted with power supply in a number of locations around the School or Campus. The App is designed to only respond to the waveform and dynamics of a range of gunshots. When a gunshot is sensed, the Application automatically sends an alert to the Administrative Desk's computer,with auto-forwarding to the local Police Department and E-911 server if not acknowledged by the Admin' Desk within a set time period.

- Low cost and quick installation. Uses exisiting Wi-Fi network internally.
- Uses Encrypted Internet links externally.
- Encrypted internal Wi-Fi transmissions.
- Auto-Forwarding to other Email addresses if unacknowledged.
- Modular easy to use, yet secure design.
- Each Staff WEB-ALERT Smartphone also senses gunshots and auto-transmits.
- Can be linked into Legacy Alarm Panels and Control Stations.
KEY FEATURES
WHO IS DATALINK

KENWOOD - HYTERA - ICOM
Portable Radios



Datalink Systems USA Inc., founded in 2008 is a specialized engineering company with focus on bespoke software and hardware developments for advanced security monitoring of personnel and assets. Over the years our clients have included;

U.K. Ministry of Defense, London Metropolitan Police (Anti-Terrorism Squad), USA Department of State, US Marshalls Service, Australian Attorneys General Department. To name a few.

WEB-ALERT will be available for shipping in June 2018.

Pre-order now!

.



Click here for more information and pricing Click here to view our Development Team

copyright: Datalink Systems International Inc. 2018

1804
301
---