Failure of overhead dynamic message signs can have disastrous results with fast flowing traffic
The Datalink i50-VMS provides a back-up solution when the fiber link fails at any time. An i50-VMS is attached to each sign and connects to the highway signs message server. This communications link can be over cellular 3G-HSPA, local UHF/VHF network or in remote areas over Iridium satellites. Smart technology within the i50-VMS adheres to the NTCIP protocols and greatly reduces the "over the air" message size.
The i50-VMS uses an IP-Port communication structure which should allow for simple integration with existing message controllers.
---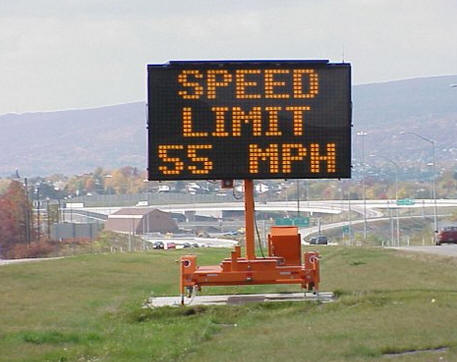 The latest variant addresses a need for remote control of electronic highway signs in remote areas. The i50VMS can also provide an easy switch over from fiber networks to a back-up link in the event of a failure in the primary fiber link.
The i50-VMS requires our
DataGate IP router software
A number of i50-VMS terminals have been serving the Missouri D.O.T. for the past four years.
to link to 3rd party legacy systems. This would normally be installed on the same server that hosts the Message Sign control program. Connection between the DataGate and the sign controller is normally over an IP/Port address. Other options include read/write to a common database or via emails.
Click here
to view the specifications
The i50B has ten years of design experience behind it. Internal module options include Iridium 9602 SBD Satellite modem, 3G-HSPA quad band modem and optional external Kenwood LMR UHF/VHF radio.
---