THE ONLY MOBILE CONTROL DEVICE THAT WORKS WITH IRIDIUM - CELLULAR - LMR VHF/UHF NETWORKS
---
The i50 MobiHUB has fifteen years of design experience behind it. Available with optional Cellular 3G modem, and/or Iridium SBD Satellite modem for world wide operation. Will also connect directly to certain models of LMR Mobile Radios such as Kenwood's NX and DMR series.
Can be ordered as a complete end to end ready to run solution, including back-end software,, or as an OEM circuit board assembly with firmware for installation into 3rd party enclosures.
The i50 MobiHUB is fully integrated with our DataGate"back end" IP routing software, allowing complete "end to end" performance with a choice of mapping programs and client workstation software (optional) or direct connection to most Database programs.
GLOBAL OPEN SIMS
The i50 MobiHUB can be delivered with low cost M2M SIMs ready to operate in most countries.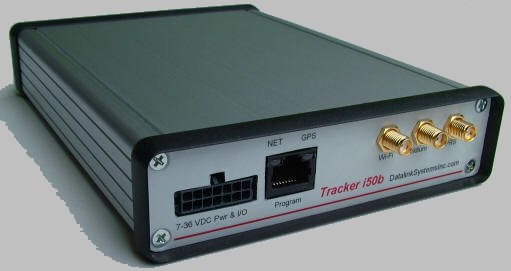 i50 V3 MobiHUB
FEATURES
50 channel uBlox LEA GPS receiver
Internal satellite and cellular modems with dual operation (optional)
Three external RS-232 serial ports
Sleep mode with adjustable timeout and periodic wakeup timer
Wide input voltage range with load dump protection
Battery voltage monitoring
Four digital inputs plus Ignition sense input
Four digital outputs
Two analog inputs
Internal flash memory for permanent storage of unit settings
Internal data buffer with backup battery eliminates data loss
Internal three-axis accelerometer with auto leveling
External J1708 engine interface (optional)
External RFID (HID) Reader.
Emergency alert mode
SCADA ready
Remotely programmable.
MULTISPEAK

The i50 MobiHUB and DataNet is compatible with Multispeak, a common data processing platform used by the majority of Power and Energy companies around the world.

DataNET transports Multispeak formated packets over the selected wireless network for processing by the client's software.
The Next Version of the i50 MobiHUB is scheduled to have the following additions.
- Ublox LTE- Cat M1 High Speed M2M and IoT chip
- J1939 CAN BUS Interface
- Bluetooth
- Iridium Core 9523 (voice/data) module. Optional Plug-In.
SCHOOL BUSES
---
The i50 MobiHUB is the perfect device to monitor all functions in School Buses. The i50 controlled by Datalink's DataGate Host Software can provide a complete "end to end" system for smaller School Boards, or be an advanced Mobile Hardware Terminal linked to 3rd. Party Student Management Software such as EDULOG, BUSBOSS and others.


- MONITOR DOOR (OPENING/CLOSING) - STOP ARM - FLASHING LIGHTS - STUDENT RFID (BOARDING/EXITING)

- DRIVER RFID (ON DUTY HOURS) - REPORT ENGINE CODE ALERTS - MONITOR SPEEDING AGGRESSIVE DRIVING

- REMOTE ENGINE LOCK-OUT - SERVICE & MAINTENANCE ALERTS - TWO-WAY TEXT MESSAGING WITH DRIVERS
---
Contact Datalink International for more information and pricing;
info@datalinksystemsinc.com
Copyright: Datalink Systems International Inc. 2019.
Ref: 1905051