---
---
The above map depicts an extended WAN coverage area. Each blue circle is a regional repeater with data back-haul over the Internet, reducing GPS and data interference with voice traffic.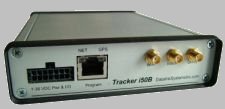 Datalink's i50 control unit is installed in each vehicle and connects to the radio via the data port. An optional Laptop, Tablet or Smartphone can be linked to the i50 over Wi-Fi allowing for two-way text messaging and address navigation. The i50K contains a database which is updated regularly with new regional base radio details, allowing it to steer the radio to the correct channel in each region.
---
Contact Datalink for additional details.
copyright: Datalink Systems International Inc. 2018
Datalink has developed a variant of its Tracker i50 series which allows for control of certain models of mobile radios, steering them to specific channel frequencies in conventional or non-trunked networks. The i50 uses its internal GPS information and "look up" list to select the correct channel to link to the nearest repeater. In some areas local topography may obstruct the signal, and based on RSSI signal strength the i50 may select another repeater. This allows a vehicle moving from region to region to automatically link to other repeaters if authorized, allowing for voice communications and also data messages and GPS tracking information to be exchanged with a DataGate server possibly hundreds of miles away.